Chimayó chilis, pride of New Mexico, are the possible progeny of the ur-chilis of Mesoamerica. (Photo: Universal Images Group North America / Alamy)
At the beginning of lockdown, I returned to Greece to be with my family as the headlines became grimmer. Already, in March, the earth around us was swollen with the bulbs of asphodels and wildflowers carpeted the hills. When I snuck out for an occasional hike, I noticed that all around the land looked exuberantly hospitable, and the availability of a garden with a dilapidated greenhouse presented the opportunity to do something I had long dreamed about.
My plan had been for years to grow the spiciest and most unusual chilis I could, partially to amuse my friends, and partially because I love cooking spicy food, especially during Orthodox Lent, when meat and fish and cheese are forbidden. Greece's draconian measures (police permission was required to go to the shops) gave me more time to plan my garden. In years past we would have floated over to the island of Agios Nikolaos for Holy Week services. Last April, the services were broadcast on national television and I had time on my hands.
The Dutch, I discovered, grow more than tulips and marijuana and I began ordering seeds from peperzaden.nl in the Netherlands. On the Dutch website, I chose long, thin cayennes; bulbous peter peppers; Carolina Reapers — the world's spiciest chili, according to Guinness World Records; Chocolate Trinidad Scorpion Butch T's — a brown variant of the runner-up to the Reaper; Inca red drops — an abundant bush of oval crimson peppers; bishop's crowns — perhaps the most alien-looking of the bunch; long, fat, brown Machu Picchu chilis; and a whole range of others that I would slowly add into the gene pool in the admittedly extravagant hope that they would cross-breed and, in a couple of years, produce something entirely unique.
My own devotion to the spicy seed runs in the family. When my brother Lex lived in New Mexico a couple of years ago, he bought Chimayó chili seeds, a variant of pepper that is supposedly closely related to the ur-chilis of Mesoamerica. (Isn't it amazing to think that chilis were discovered with the New World — prior to Columbus and his rapacious progeny. What must, for example, Native American curries have tasted like?).
When Lex planted them near my father's island home in the Argosaronic Bay, they took root with abandon. The lack of altitude didn't seem to have been a problem. But a most curious thing happened: the chilis grew into misshapen bulbs with pointed ends, sweeter and spicier than the Chimayós he'd grown in previous seasons in Taos.
"Maybe they crossed with one of the local peppers," he said, gesturing at the lines of red and green piperia, bell peppers which, baked and bursting with rice and spices and raisins, are a Greek favorite.
My gardening resumé has been, since the age of twelve when I was a stalwart of my school's horticultural society, mainly of the office variety. I tried growing Carolina Reapers in the old offices of the New Yorker on the 38th floor of the World Trade Center, along with a small ficus, several varieties of cactus (including a Saguaro weaned from the seed), and morning glories that wended their vines up the cords of the blinds, eventually bursting out large purple flowers all the way up the frame of my window and inspiring awe from even the most non-committal colleagues.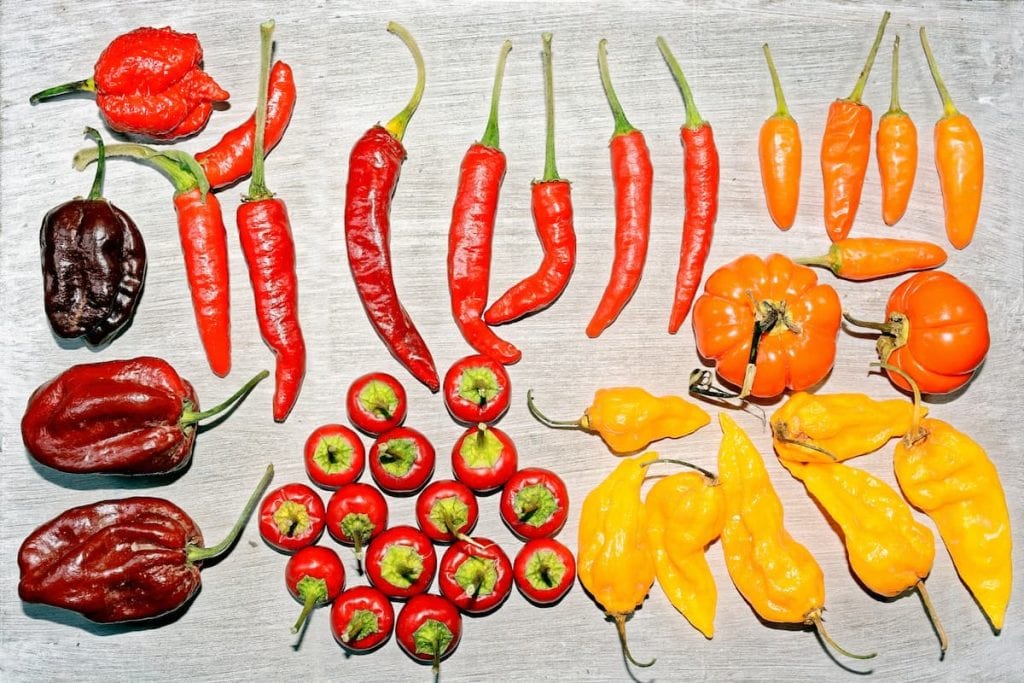 My New York Reapers failed to bloom. Maybe I needed to be further south, like the legendary "Smokin'' Ed Currie, founder and owner of the Puckerbutt Pepper Company who created the superhot Reaper through years of breeding. "The very first flavor you get," Currie says in one of his Youtube tastings, "you get this really sweet citrusy taste, and its floral tones, you know, in your palate. And then the heat starts and there's nothing you can do about it." He manages to look quite nonchalant under his visor cap.
I once sprinkled one of his Reapers into a curry I made for a group of friends in New York. Halfway through the dinner, people were asking whether I could rustle up something else — "it's inedible!," my guests proclaimed. I briefly thought they were saying "it's incredible," so swollen were their tongues. (For those wanting to cook responsibly with Reapers, the general rule is to put a quarter of one into a large pot of stew.)
My love for the very spicy remained undeterred. I wanted to grow Reapers as devastating as the dried one that made my dinner memorable. As Lauren Collins once wrote in the New Yorker, "as a leisure activity, superhots offer some of the pleasures of mild drugs and extreme sports without having to break the law or work out."
In early April, as soon as I received them from my Dutch enablers, I germinated the seeds in potting soil, and planted them in a part of a greenhouse that would get sunlight until the late afternoon. Some of the peppers pushed up rapidly through the earth; others took their sweet time to poke the caps of their two-leafed stalks through the soil.
To my fanciful eye, they looked like devil's tongues, hinting at future rewards or punishment. The fastest-growing was the Machu Picchu, which quickly towered above all the rest to such an extent that I moved another, slower-rising plant — a Puma pepper — to another pot, a peregrination that it barely survived.
By early June, most of the plants were burgeoning with broader, pointed leaves that called to mind the spades on the endless card games that filled locked-down evenings. Their roots had grown into barky webs that traversed the surface of the soil. On a few occasions, I found green grasshoppers, the color of the branches they were lazing on, munching away at tiny white flowers as other insects buzzed about in the sharp dry light of a Greek spring.
Flowers die to bring fruit, and when the white petals had crinkled to brown crumbles, the bulbous bases behind them began to swell. At first, they looked like tiny versions of the zucchini flowers that we'd been eating from the garden all spring, but soon they were, unmistakably, chilis. Hundreds of them, it soon turned out.
Too curious to wait until they were red, I'd crunch them — Reapers, Red Drops, Cayennes — sweet, delicious peppers they were, though they had nokick to them, leaving me to wonder if the Dutch had deceived me.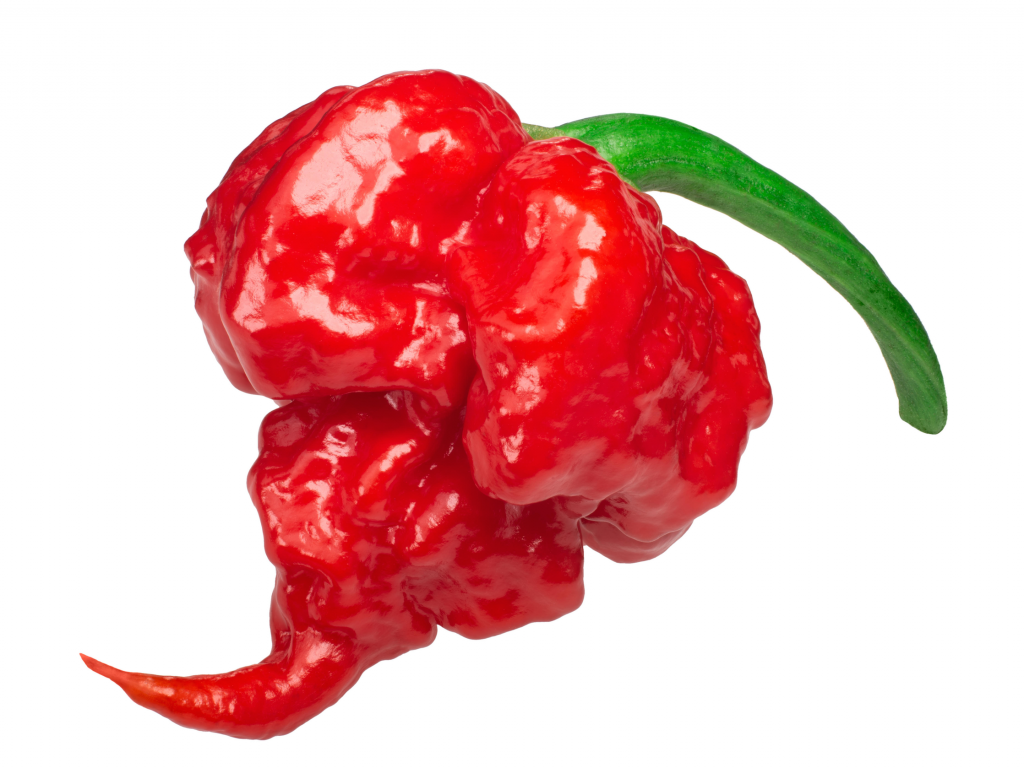 The Reapers were the first of the peppers to turn red a little later in the month, and I eagerly cut one up to try it, fresh from its bush. I tried a quarter.
At first it was sweet, but then something angrier stirred at the back of my taste buds. I swallowed, and my mouth, my stomach, my eyes burned. For
two days, I felt winded, my gut punishing me for the excesses of my green thumb.
But that first hint — the sweetness before the full assault — tantalized me.
Searching for a Platonic ideal reflecting my heritage, I experimented
blending the chilis in some of the recently pressed olive oil from the region
— five per litre — and, presto, a spicy sauce full of sweetness and vim
emerged.
One evening, I visited a hotelier on the nearby island of Spetses who had constructed an organic farm in the hills above town where he'd opened a farm-to-table restaurant. He offered me one of the long green peppers that are usually grilled in olive oil in Greece."It's not too spicy," he said, as we walked about the garden. Soon, my eyes were watering, and I was choking back coughs.
The hotelier laughed at my predicament and asked whether I liked spicy
foods. I said I did, very much so in fact, but he had caught me off guard. I
promised to send him some of my Reapers the next day, which I did, with a
cautionary note saying to, under no circumstance, eat them raw.
I received a text from his wife that evening. He "took a bite of your chili,"
she wrote. "I did warn him, so did you. They are hot, the hottest he has had.
The kids were highly amused… so we all thank you."
Following up a little later, his wife wrote, "he plans to dry some of the seeds
and grow his own supply." My imagination leapt: through the seeds of my peppers, could Spetses develop its own culture of superhots? Would food culture change on the island? Would guidebooks in future years bear warnings about Spetses's traditionally very spicy food? Who knows. All I can say is that the seeds have been sown.