You love your mom…but, sadly, you didn't inherit her time management skills. And now, with Mothers Day just a few days away, you've missed the shipping window to fete her with a set of fancy floral candles or a pretty pair of earrings. We get it. But, relax: with just a few basic supplies (and minimal crafting skills) you can still shower her with a special bouquet—and a never-gonna-wilt one, to boot!
The art of paper flower-making has been going on around the globe for thousands of years: some of the oldest existing examples date from 7th century China, and once hung at the Mogao Grottoes, a Buddhist pilgrimage site along the legendary Silk Road. Over the next few centuries, the technique spread via the same trade route, through the Subcontinent, Central Asia, into Europe—and from there, across the Atlantic to the colonies. In Mexico, where the Mayans had already been making paper for hundreds of years, the locals embraced the craft with zeal, using the blooms at festivals and to decorate churches and ofrendas, or altars, notably during Dia de Los Muertos (Day of the Dead).
Nowadays, artists like Tiffanie Turner and Livia Cetti are merging the folk craft with fine art and high fashion, publishing coffee table books and creating hyper-realistic nature-based blooms that can be found in international museums and chic boutiques, such as New York's John Derian (where Cetti's exquisite work sells for top dollar under the name The Green Vase.) Companies like Unwilted are even giving FTD a run for their money, offering a catalog of everlasting trompe l'oeil arrangements that are cut from Italian crepe paper, painted, and hand-shaped, and can be shipped anywhere in the U.S.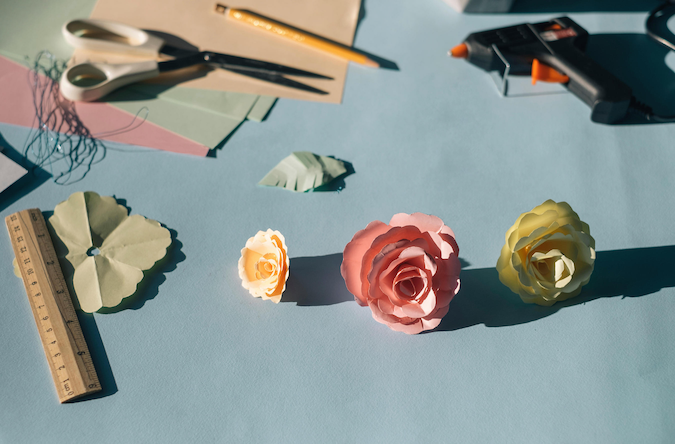 But you don't have to be a professional botanical designer to put together a paper bouquet mom will cherish. (After all, this is the woman who's still using that crooked ceramic mug you made her in middle school!) All it takes is a little space to work and a handful of simple materials, like a ruler, crepe paper, card stock, wire, tape, and glue. (Michaels, here we come!) Then, pick your blooms.
Is mom the cool, elegant type? Try an ikebana-style magnolia bough.
A boho romantic? A clutch of voluptuous peonies are sure to go straight to her heart.
A old-fashioned traditionalist? You can never go wrong with roses.
And if you really want to go all in, you can even make a vase to put them in!
The best part? These bouquets will last forever—just like your love. (And yes, you should write that on your card.)