Just about every restaurant has some kind of salad on the menu. But why would I ever order one?
For the past 25 years I have eaten my way around the globe as a travel and food journalist. And while I'm not a fine-food critic, I've dipped my spoon at eateries ranging from Michelin-starred dining temples to roadside barbecue shacks and choosen hotels by the lure of their dining rooms. I've spent a third of my adult life on the road, 100-plus nights a year, each accompanied by three restaurant meals a day. At least!
Since I'm constantly evaluating eateries and their chefs, I'm looking for the most tempting, interesting thing on the menu, and from my seat at the table, salad ain't it. At home I'm unlikely to take on the tentacle cleaning and prep that goes into, say, Rhode Island-style fried calamari with hot peppers in a cream sauce, so if I see that on a menu, I order it. My no-salads rule is exempt at steakhouses, where they morph from real veggies into a green-leaf delivery system for crumbled bleu cheese, bacon, and calorie-laden dressing. Tastes great, but sort of defeats the purpose.
Then came March.
I returned from a food-focused trip to Taipei (Soup Dumplings! Beef Noodles! Three-Cup Chicken!) and since then, I've spent fewer than 10 nights away from home and hardly seen the inside of a restaurant. With almost no effort, my lockdown body has shrunk by almost 40 pounds.
My wife and I are not suffering, not by a long shot. We still eat very well, using healthy ingredients. My freezer is stuffed with everything from wild-caught Alaskan salmon to real Japanese Kobe beef, heritage-breed organic chickens, naturally raised duroc pork chops, grass-fed bison, and, because pandemic indulgences are a necessity, two-inch thick dry-aged strip steaks. But when we have our weekly — at most — steak, I make just one. We split it and still have leftovers.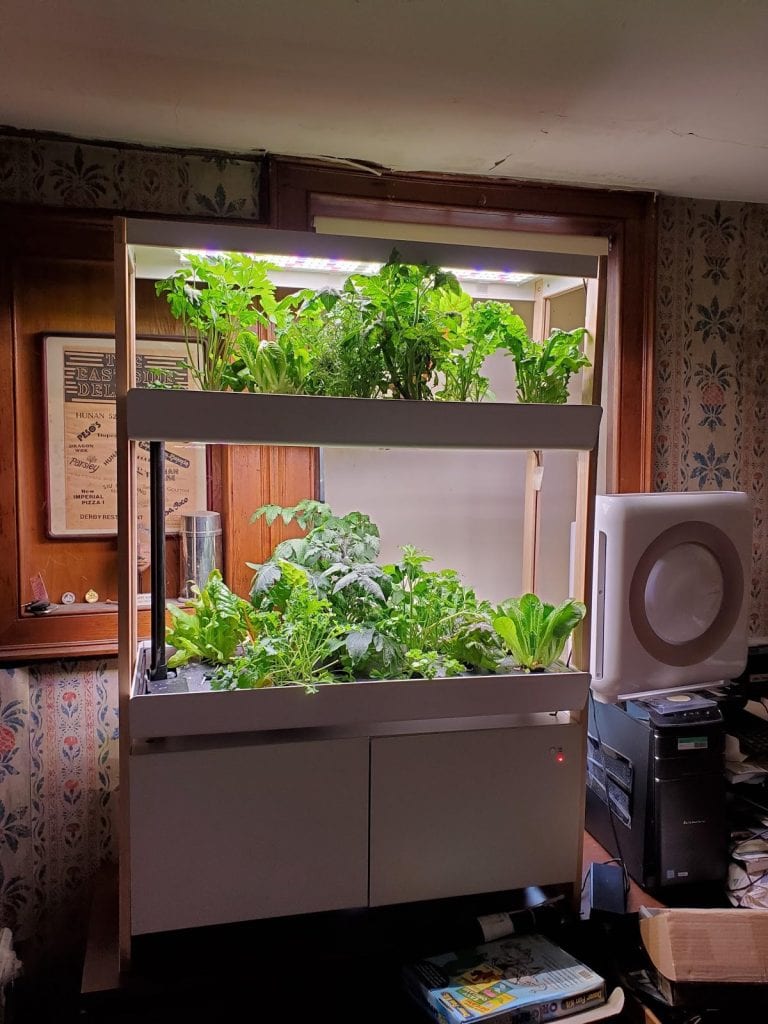 I attribute that, at least in part, to salad. I've had one to start dinner nearly every day of the pandemic, but it has been a slather-less enterprise — no bleu cheese or bacon or ranch. Sometimes there's a little feta, nearly always olives, and a kiss of homemade dressing — superb extra virgin olive oil and white balsamic vinegar. But the key is having fresh greens and tomatoes, which we grew in the yard during the summer. And when the weather turned — which it does early here in Vermont — we moved indoors, using at first one and now a second hydroponic garden with infrared lights and electronic watering systems.
In fact, appliances have been key to eating well and living healthy since this craziness began. I use a breadmaker for 100% whole-wheat bread, which lets me control every ingredient — with no baking skills. I use a fancy fuzzy-logic (whatever that means) rice cooker from Korea for brown rice, because it's the only way I've found to make the healthier stuff palatable. I work out on my Peloton bike or elliptical trainer daily. I still drink wine.
As for my indoor nursery, it has done particularly well with romaine. I pull the biggest leaves from the outside of the neat heads, and they soon grow back — a gift that keeps on giving. I typically mix the romaine with red-leaf lettuce, which offers a different texture and color. And I always throw in a few leaves of baby arugula, because the home-grown stuff has the strong peppery taste that I fell in love with in Italy but is lacking in supermarket versions. A little of that zing goes a long way and pumps up the flavor quotient. As I start a second round of indoor planting, I'm adding a crispy baby green leaf, the kind that grows ram's horn shaped leaves and adds a nice crunch to the mix.
Fresh veggies taste better, so I am happier eating them, followed by a smaller entrée. That's why I'm down to 188 pounds, lighter than I've been in years, without fad diets or sacrificing delicious food. I've long been aware that American portion sizes are oversized — a point driven home by the astonishment of visiting friends, including one who looked at a plate of chicken wings and said, "That would feed a family of eight back home in the Dominican Republic" — but now I'm living the difference. Less is less, but it's not lesser.
I was supposed to go skiing in Japan this winter where I was looking forward to my personal splurge, tonkatsu, pork done like fried chicken. Then it was on to Italy's Dolomites and my favorite Italian dish, the risotto at Chalet del Sogno in Madonna di Campiglio, owned by the family of former Olympic snowboarder Alberto Schiavon. I miss travel, but the silver lining is that I've also missed airport bars, unnecessary breakfasts, and excessive desserts. As my global horizons shrink, I harvest yet another batch of fresh greens, and as a result, I shrink too.