A major ice and wind storm is whistling and crackling at the window. It's freakin' February, bearer of bleakness and Valentine's Day. But before I get desperate enough to order pet hermit crabs or text my ex, I'll turn to my pandemic pick-me up: growing mushrooms.
Opening the homemade plastic terrarium above my desk, I'll spritz them with water to mimic the conditions of a misty old-growth forest. As I seal them up for the night, I'll marvel at their miraculous fruiting, impervious to the wild times we're living in.
Back in October, when there were more leaves on trees and fewer virus variants, I went on a date. I ate french fries and listened to the socially distanced diatribes of a man at the far end of a six-person table. I perked up only when he began boasting about his mushroom garden… in a shoebox in his closet. It was the most intriguing thing about the dude — a hint that I'd be better served pursuing mycology rather than a second drink.
I'm not the kind of spore explorer you'd find at a festival capering to Tame Impala in loose-fitting linen with a Nalgene full of adaptogenic tincture. I tutor third graders in an in-person pod during the day and write at night. It's all hands on desk most of the week, so this growing project has been key to warding off my doldrums. By the glow of a MacBook Air, I can watch condensation trickle into a network of mycelium spinning my next dinner.
"Looking like Walter White in our quaint kitchen, I squirted the spores into mason jars with perforated lids that were filled with grain and vermiculite. Then, I waited."
Whether as a substitute for new relationships or a strategy for not self-destructing the ones we already have, we've all been challenged to find private joys this year. Windowsill scallions and sourdough starters are so last April. House plants have brought me some solace, though the sun isn't on my side this season. Shrooming woos me because of its dark beginnings: not a ray of UV light is needed for spores to colonize. In my dim second-floor apartment with very average-sized windows, I can cultivate in winter's shadow the way a mad scientist might secretly tinker in a lab.
I didn't splurge on one of those $30 logs or pre-packaged growing kits, already inoculated with spores. They all looked too neatly bundled, disposable, and unconducive to sustaining a hobby. Like a pig to a truffle, I buried my nose in YouTube tutorials. I stumbled on a subculture that threatened to devour me if only I slipped into the depths of the subReddits, a lot of them laced with psilocybin-talk. I learned how hallucinogenic mushroom spores are surprisingly easy to purchase for "research," but illegal to grow. Culinary mushrooms are more delicious, anyhow, especially when freshly plucked for some deskside crudités. (Yes, I eat them raw!)
Unlike sowing a garden, though, spores must be injected meticulously to avoid cross-contamination. The most sterile platform for the job is on the open door of a hot oven, since the rising heat pushes any microbes up and away from the spores. Wearing a mask further protects mushrooms from mouth germs — a sick joke woven into pre-pandemic tutorials. Thankfully, I had plenty — and a face shield for good measure. Looking like Walter White in our quaint kitchen, I squirted the spores into mason jars with perforated lids that were filled with grain and vermiculite (mushroom food!). Then, I waited.
The fungi frenzy began a week after I popped the colonized jars into my mini terrarium. Fruiting seemed to happen as spontaneously as a time-lapse in a nature documentary. I'd go for a walk and come back to find a new cap unfurled, or new pinheads pushing out. And while I reveled in the entire life cycle, I learned to harvest mature gills before they unleashed their spores, carpeting the terrarium bottom with dark dust.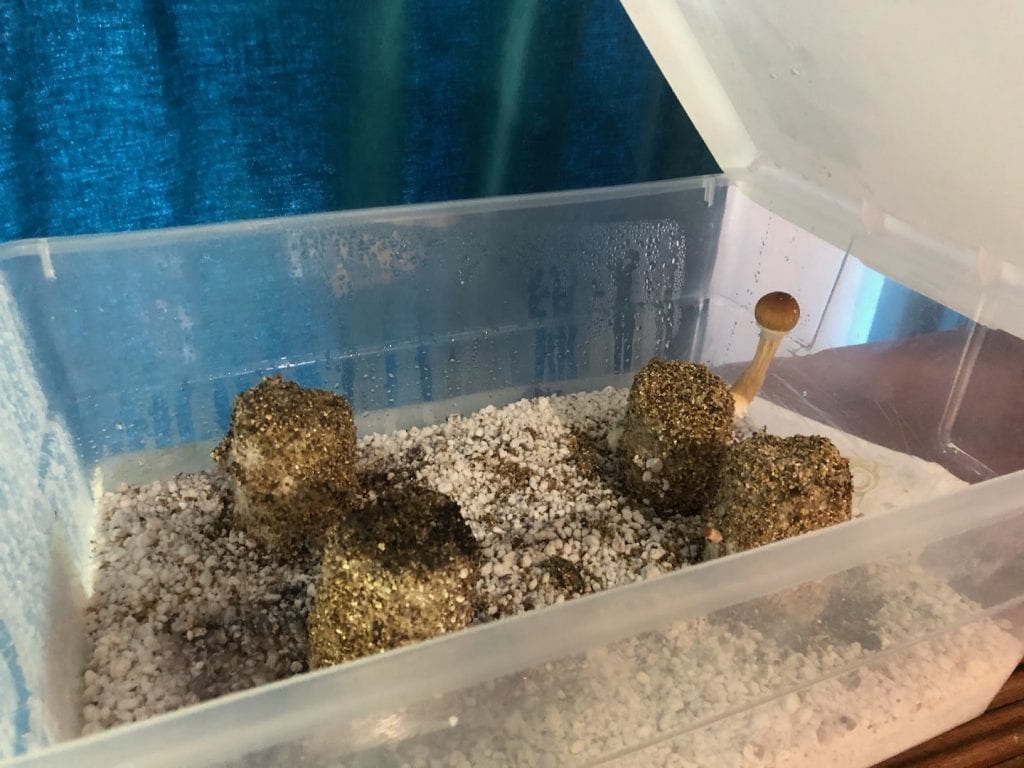 After the first flush, I had more mushrooms than I had butter to sauté them with — a pretty lame complaint considering my mouth was never bored by the medley I chose. Maitake, lion's mane, poplar, and oyster each had their own distinct flavor and texture, despite the Tupperware terroir. While I was eating, it was hard not to picture the network of fungus that breaks down and fortifies all organic matter. I may gloat over a bowl of butter-basted bedroom-grown hen-of-the-woods, but I will be a mushroom's meal some day — like the crazy cat lady who is feasted on by her felines.
Whatever gets us down these days, mushrooms can break down further. For now, fungi fortify me like the trees they latch on to, helping them absorb minerals and water more efficiently. I feel more alive when I watch furry white teeth hatch from a maturing lion's mane mushroom, inhale the earthy musk of black poplars, or tickle the thinly-gilled shelves of oyster caps that can grow as gold as a daffodil or pink as a rose petal. I'm reminded that while the great outdoors are pretty great, secret magic can bloom in a box just inches away.