Descending into Ministro Pistarini International Airport a few years back, I stared out the window at the smoke below, hungry with anticipation. Those gray dots were tiny plumes from backyard grills in Buenos Aires, thousands of them, all over the metro region.
It was Saturday, which meant just about everyone was firing up an asado. We'd call it a backyard barbecue, but in Argentina it is mucho mas, an indelible part of the social fabric, a tradition inseparable from the land, the pampas and the gauchos. Nearly religious in its following and regularity, the weekend asado tradition has no peer in the U.S. — except maybe Sunday NFL football.
Food and travel have always been passions of mine, and when I am not on the road, I bring travel memories back to life through cooking, the way some people flip through the photo gallery on their smartphones. Cooking with fire is one thing that connects the cuisine of every culture on earth, whether it features a pit dug in the sand or a domed, brick pizza-oven, and I am especially fascinated with grilling cultures.
Perhaps that's why more than a dozen specialized outdoor cooking devices, from a Japanese-inspired kamado to water smokers, populate my patio. And I've got more in the barn — grills for pizzas and a pig box that resembles a coffin on wheels. I have a South African grill to replicate that country's social barbecues called braais, and a Brazilian rodizio grill, with a vertical wall of motorized sword-like skewers. A patio table with a built-in grill that runs down the middle — Benihana style — always grabs attention.
Recently I added a long-coveted 40-inch wide Nuke Delta, designed and built in Argentina, which vies only with neighboring Uruguay for the highest per capita beef consumption on earth. Our love of burgers notwithstanding, Americans can't remotely keep up. Argentines put away more than double the paltry 58 pounds we manage, even though the United States sits in fourth place globally (knocked off the podium by Hong Kong).
Uruguay and Argentina have long traditions of free-ranging, grass-fed, drug-free cattle, which has not been the norm in the States for over a century. It tastes better, it's better for you, and as a result, Buenos Aires is justly world famous for its steakhouse culture. And just as the cattle that are different, so i the surrounding celebration.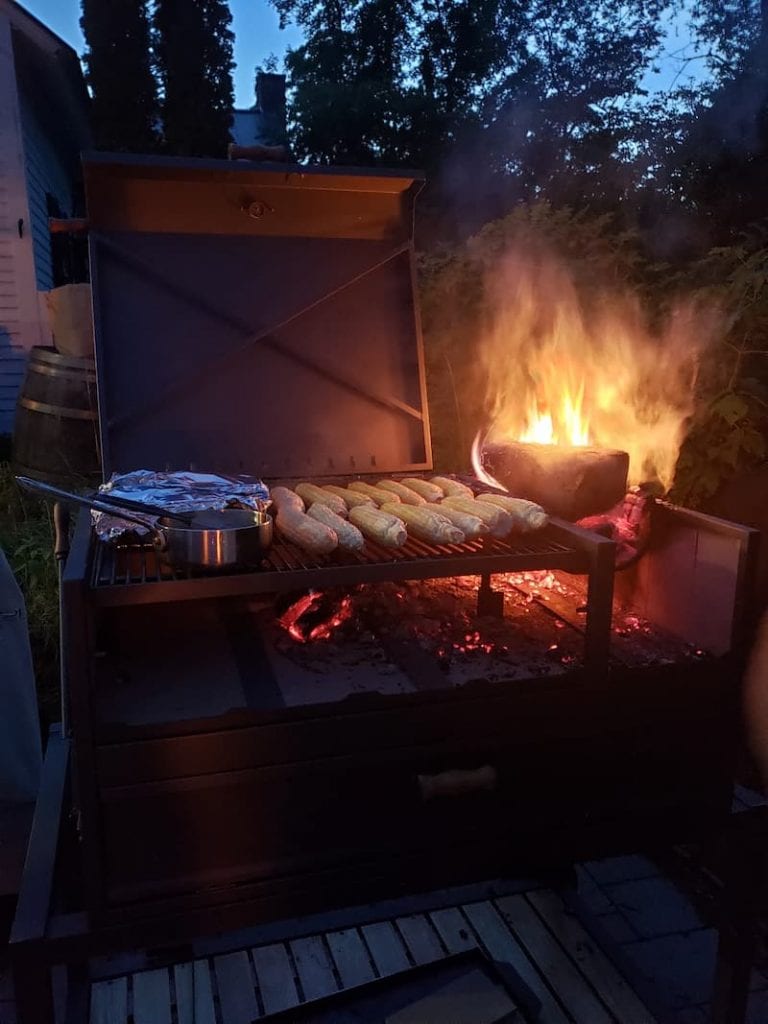 For starters, dinner is usually a varied spread, not the individual steak we are accustomed to. The popular cuts are also much different, with the top choice being tira de asado, or beef short rib, rarely grilled here, cut across the bones like Korean kalbi. With this one exception, it's rare for Argentines to cook steak on the bone — a ribeye is just the eye. Other ultra-popular options are entrana (skirt steak), and bife de chorizo, a thick boneless strip, not to be confused with spicy chorizo sausages, though these are also a part of every mixed grill (or parillada).
Cooking? While American steakhouses are all about high heat (900°-plus) char, in Buenos Aires, beef is cooked very slowly, always over a wood fire, never in a pan, until evenly done inside and out with minimal crust or browning. Meat is cooked largely unseasoned, and instead, served with several sauces, including green (parsley) and often red (red pepper) chimichurris, and salsa criolla, a chunky tomato, onion and vinegar mix.
Argentinian grills are differentiated from our common grills, like the ubiquitous Weber kettle, mainly by one or more movable grates that can be raised and lowered easily. The big models in restaurants have industrial-style metal wheels and chains on the side. Smaller ones, like mine, use a lever. The other distinctions are inverted V-shaped grate bars to disperse and prevent dripping fat from flaring up under the meat, and a firebox on one side where newly added logs burn until chunks of charcoal fall though the grate below, at which point they can be swept or shoveled under the adjacent cooking grates.
Backyard asados go on all day, and this system ensures a steady supply of ready to go coals with no cool-down periods. In Argentina, there is no propane or chemical-laden briquettes, just wood or hardwood charcoal burnt down to glowing embers.
An Argentine barbecue typically has an asador or Master of the Grill, an honorific I aspire to in my backyard in Vermont. In our pandemic summer, when the only social events were outside, it was my asado that took center stage, standing in for travel and normalcy, bringing friends together over fire and food (and red wine). I'm big on accurate recreations, so I used flat leaf parsley and ultra-ripe tomatoes from my outdoor garden to make my own chimichurri and salsa.
I special ordered crosscut beef short ribs from the butcher (curbside delivery), scored local artisan chorizo at the farmer's market, used boneless grass-fed strips from a nearby Vermont farm, and bought a case of Malbec from Mendoza. I busted out some bocce balls and started the fire early because it takes at least an hour to get the embers ready, and there was plenty of food, but no sit-down meal.
Manning the grill for hours is a lot of work, a big responsibility. Host and guests are bound by tradition, with attendees helping grab plates or side dishes or armfuls of logs, while the asador calmly cooks. It's not a position I intend to relinquish to a mere mortal hovering over a modest three-legged kettle.