Herbs and hard drink have been bound up together for centuries, stretching back into the Middle Ages when monks throughout France, Italy, and Central Europe began crafting beers, brandies, and other distilled spirits infused with special blends of herbs, barks, and flowers. Some of the most famous—like Chartreuse (whose secret recipe is rumored to contain more than 130 components) and Benedictine—are still popular today.
But, relax: you don't need to join a monastery to enjoy some fresh herbal tipples. Herbs are among the easiest and most rewarding plants to raise, even if you're short on space or sunlight. Indeed, all it takes to get a "garden-to-glass" cocktail garden going is a couple of containers and a few square feet of space—or even just a windowsill—and a handful of starter plants. Begin with classics like mint, basil, sage, rosemary, and thyme—and the simple recipes below—then, if you're feeling adventurous, branch out your bartending skills (and garden) with lemon verbena, tarragon, bee balm, scented geranium, and lavender. After that, all that's left to do is grab a few bottles, break out the ice bucket, call up some friends, and say cheers to spring!
Fresh Mint Kir Royale
Makes 1 drink
½ oz. mint simple syrup (see recipe below)
1 1/2 oz. creme de cassis
3 oz. chilled sparkling wine
Blackberries, raspberries, or cranberries, for garnish
Mint sprig, for garnish
Combine the mint simple syrup and creme de cassis in a flute or coupe glass. Top with sparkling wine and garnish with berries and a sprig of fresh mint.
Mint Simple Syrup
Makes 1 cup
1 cup sugar
1 cup water
20 fresh mint leaves
Combine sugar and water in a small saucepan. Bring to a low simmer, stirring until sugar has dissolved. Stir in the mint leaves and continue simmering for 2 minutes more. Remove from heat. Cool to room temperature, then discard mint leaves. Syrup will keep, refrigerated, for 1 month.
---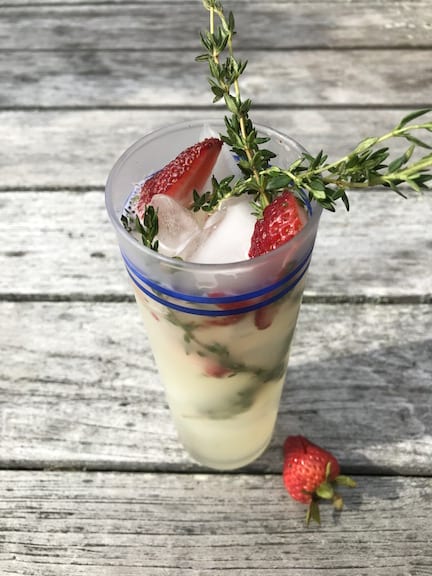 Strawberry Thyme Lemonade Spritz
Makes 1 drink
2-3 strawberries, thinly sliced, plus more for garnish
1 sprig fresh thyme, plus more for garnish
2 oz. lemonade
2 oz. vodka
Club soda
Add the sliced strawberries and the leaves from 1 sprig of thyme to the bottom of a Collins glass and muddle until pulpy and fragrant. Fill the glass with ice cubes, add the lemonade and vodka, and stir gently to combine. Top with club soda and garnish with another sprig of thyme and strawberries.
---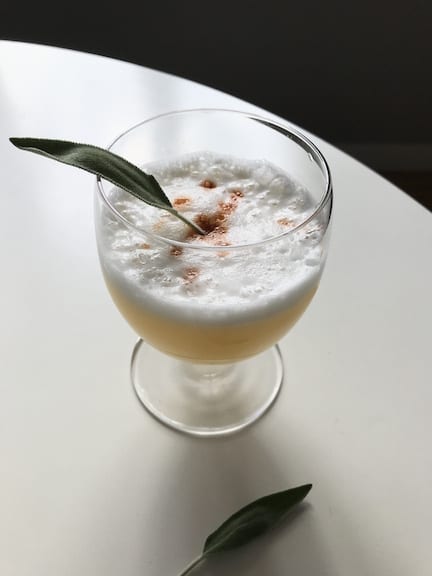 Grapefruit Tequila Fizz
Makes 1 drink
2 oz. tequila
2 sage leaves, plus more for garnish
1 ½ oz. freshly squeezed grapefruit juice
¾ oz. simple syrup
1 egg white
Angostura bitters, for garnish
1. Add tequila and sage leaves to a cocktail shaker. Muddle vigorously until the sage leaves are bruised and the mixture is fragrant, about 1 minute. Discard sage leaves. Add grapefruit juice, simple syrup, and egg white to the shaker. Cover and shake vigorously for about 30 seconds. Open shaker, add ice cubes, and continue shaking until well chilled, about 45 seconds. Strain into a chilled cocktail glass and garnish with a dash of bitters and a sage leaf.
---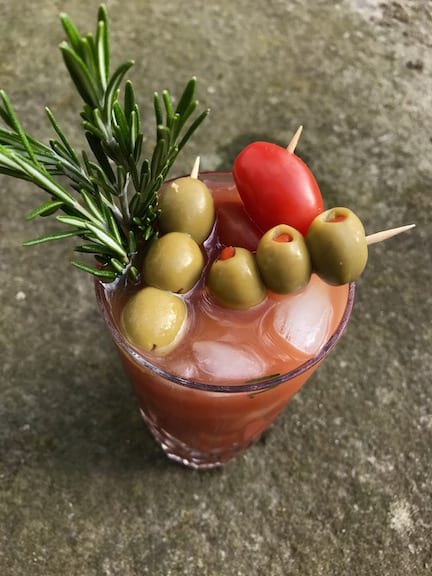 Rosemary Bloody Mary
Makes 1 drink
2 ounces rosemary vodka (see recipe below)
4 ounces spicy Bloody Mary mix
1 pinch celery salt
1 pinch ground black pepper
1 pinch smoked paprika
Rosemary, for garnish
Green olives, for garnish
Cherry tomatoes, for garnish
Fill a tall glass with ice. In a cocktail shaker or small pitcher, combine the rosemary vodka, Bloody Mary mix, celery salt, pepper, and paprika. Add a handful of ice and stir until cold and well combined, about 1 minute. Strain mixture into prepared glass and garnish with sprig of rosemary, olives, and cherry tomatoes.
Rosemary Vodka
4 large sprigs rosemary
1 cup vodka
Combine rosemary and vodka in a glass jar. Set aside in a cool dark place to infuse, at least 1 day or up to 1 week. Before using, discard rosemary.
---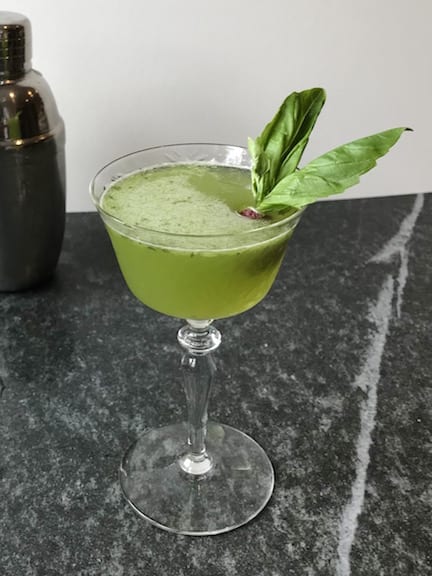 Basil Gin Gimlet
Makes 1 drink
4 large basil leaves, plus more for garnish
1 tablespoon simple syrup
1 ½ oz. gin
1 ½ oz. lime juice
Raspberry, for garnish (optional)
Add basil and simple syrup to a cocktail shaker. Muddle vigorously until the basil is bruised and fragrant and the syrup looks mixture juicy and green, about 1 minute. Add gin, lime juice, and ice. Shake well, then strain into a cocktail glass. Garnish with a raspberry and a sprig of basil.