A few weeks ago I realized that I am a big-time home-office hypocrite. I talk about, and write about, sustainability — but my home office could remain un-composted in a landfill for a millennia or so. Inspired by the desire to walk the green walk, I began to investigate sustainable home-office options. I'm happy to upcycle my research with you.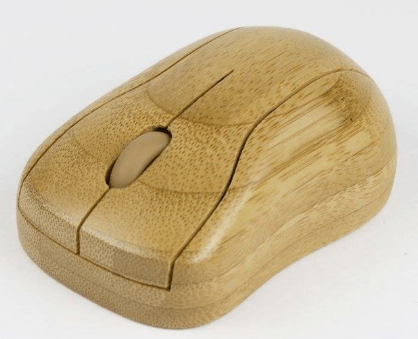 Fast-growing, Bamboo is that rare wood that has so far proved sustainable, so the plucky plant helps mitigate the impact of intricate electronics that are anything but, like this wireless mouse. The Onyx and Green company is small, apparently only repped on Facebook, but if you order yours from a responsible go-between, like Earth Hero for instance, you'll have the promise that the product's packaging will be of recycled and recyclable unbleached cardboard printed with soy-based inks and biodegradable bioplastic shell, a promise that extends to any envelopes and boxes in the shipment. This thing is nice to look at and feels good in the hand. Just point and click already.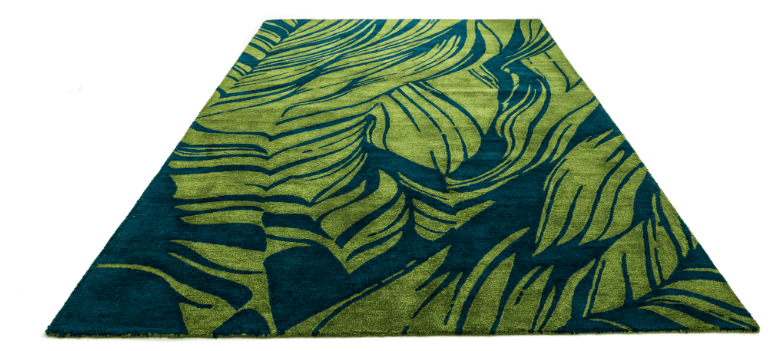 Bottoms up with 100 percent recycled materials. The German floorwear company kymo has introduced two rugs to its upscale carpet line made entirely from polyethylene terephthalate (PET), the stuff that goes into plastic, and would otherwise end up in landfills or worse. The verdant Jungle and handsome Twilight carpets are derived from disposed-of plastic bottles, melted down and spun into a tough, weather-resistant yarn that can also be used in outdoor spaces. The company says all their products are handmade to order, further reducing overproduction and waste.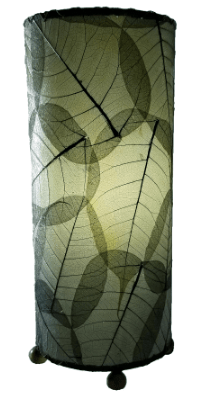 Eangee's products are wildly creative. I fell in love with this Banyan Table Lamp made with real alibangbang leaves dyed with natural colorants. It's 17 inches high with a seven-inch circumference, and even with soft white LED bulb, its overall effect is still quite green. Eangee says it collaborates with artisans in the Philippines who are paid a living wage and work under dignified and safe conditions. And you need a beyond-living-wage to buy it for $100.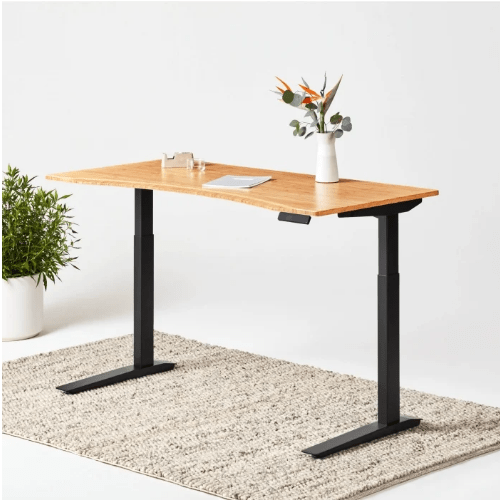 Standing desks have exploded in popularity during the pandemic. The Jarvis Bamboo Standing Desk from Fully is made from sustainably harvested bamboo that takes only four or five years to mature. This particular workspace can be adjusted into a sitting desk as well and customized in dark or light wood. You can pick a shape, too — rectangular or contoured — to help you maintain yours.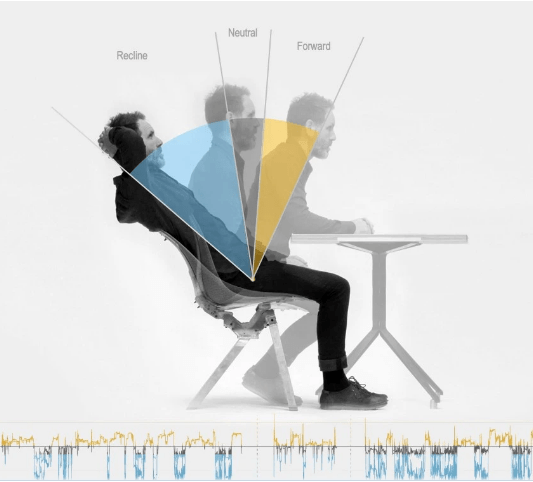 If you must sit, you will want a chair that is at once comfortable and good for the posture. You will want a seat made from auxetic fiber which, when stretched, becomes thicker and more supportive. The Noho Move has your back, literally, and you will rejoice in the counterintuitive phenomenon of increased pressure actually strengthening the material. Besides providing all kinds of form-fitting support, the chair is made (almost) entirely from waste plastic, using materials such as regenerated nylon that is 100 percent sourced from reclaimed fishing nets or long-retired carpets. So sit back — way back — and consider how the choice of where you park your butt has helped remove a little garbage from the outdoors.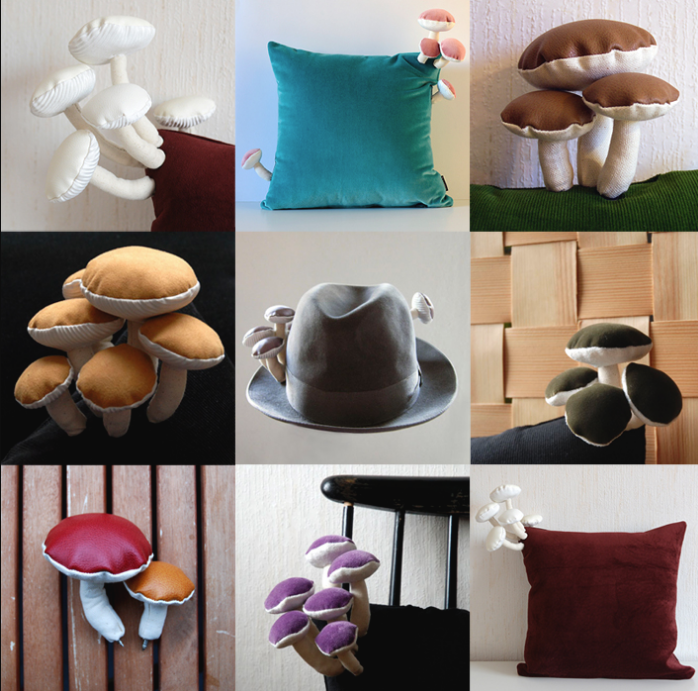 Do we really need cheerful throw pillows sprouting decorative mushrooms in our home-office spaces? Why ever not? Fungimaa translates from Finnish to mean 'mushroomland.' Designer Suvi-Tuuli Junttila came up with these clever pieces about ten years ago, but sales have taken off only recently, largely on Etsy. Future creations will include industrial textile waste and recycled plastic bottles.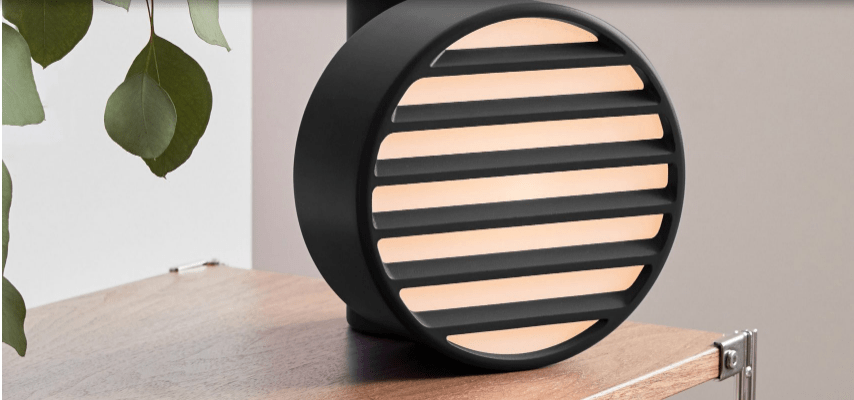 The ideal home office will have plenty of natural light; it is essential. But what if your office lights were made from plants? From light you came, and unto light shalt thou return. That was the question that design studio Ammunition and light manufacturer Gantri asked and answered with a line of floor, wall, and desk lamps made from a plastic-like material called polylactic acid (PLA), a polyester derived from plant sources such as corn and sugarcane. If that's not green enough for you, the PLA is fed through Gantri's in-house 3D printers, which they submit is more sustainable than traditional methods.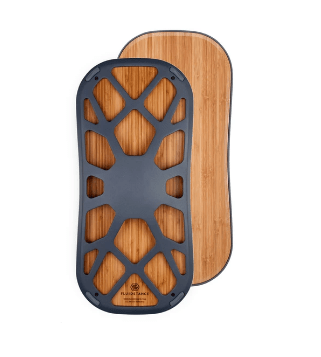 Your home office should sustain your wellbeing all day, every day. The secret to that is balance. We don't mean work-life balance (necessarily), but literal balance. Standing on a balance board while working at a standup desk, provides a light workout that is most energizing. The Original by FluidStance is marketed with the obligatory inspirational promises: "Your mind will focus, while your body will respond with natural micro-movements that will soothe stiff joints, burn calories, keep you awake and alert… and strengthen and stabilize your body."

If you think there's nothing sexy about an electrical power strip, you probably haven't yet seen the Eve Energy Strip. Do we think the manufacturer is boasting hyperbolic when she declares "this isn't only the most intelligent power strip available, it's also the most breathtaking"? Yes we do. Still, this item — designed for Apple HomeKit users — will give you control of up to three electronic devices from wherever you are, using your iPhone, iPad, Apple Watch, or by barking orders at Siri. It's jet black but also rather green, in that you can monitor and, more to the point, save energy. For example, you can dim your lights while traveling.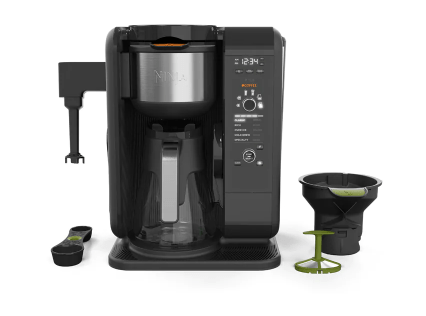 You're going to want coffee, right? Factoid: 39,000 coffee pods are produced every minute globally, and 29,000 of them end up in landfills. Not only is Ninja Kitchen's Hot and Cold Brewed System pod-free, it can brew a crazy array of coffees and teas, from frothy chai lattes and cappuccinos to ice-brewed variations made in your choice of five styles then well, you have issues. There are six size options — from single cup to carafe (included). We were tipped to this item by Recycling.com, which is worth investigating for more green office supplies. And please, show some worker solidarity by buying only fair trade coffees and teas.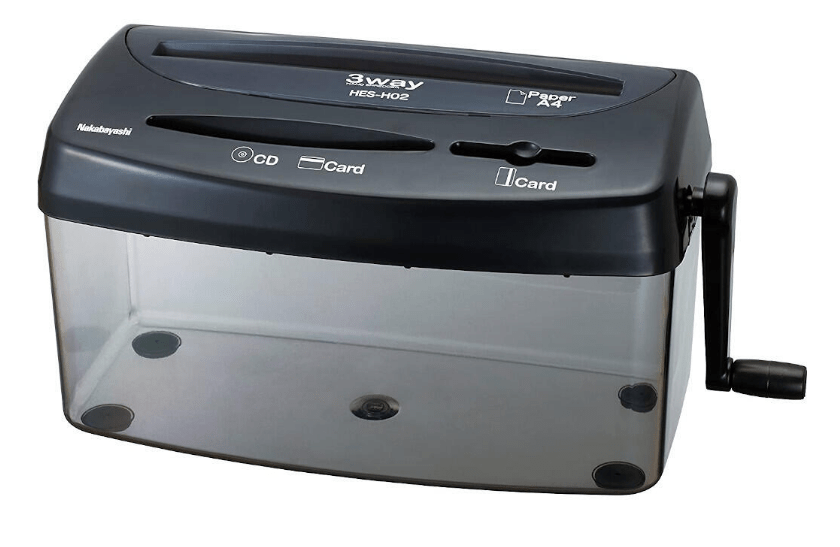 How many times have you found yourself shredding paper, thinking wistfully, "If only there were a way to efficiently shred without using electricity." Never? Well maybe you should. The Nakabashi 3Way Hand Shredder is probably for you. It's immensely satisfying to turn the crank and feel the shred happen. Does the Nakabashi also shred credit cards? Of course it does. What about CD's? You know it. In fact, in the unlikely event that CDs still exist in your realm and you've moved to streaming, we recommend shredding them at once, and doing so without burning a single watt of electricity generated by fossil fuels. Crank it up.
Let there be light. And let that light kill bacteria! They're saying the LIFX Clean is "the world's first antibacterial, germicidal smart light," which can zotz up to 90 percent of S. Aureus and E. Coli bacteria on surfaces (no, not COVID-19), all without harming you, your pets, or your plants. This bulb connects to Wi-Fi, so no additional hub is necessary and it's compatible with Homekit, Alexa, and Google Assistant (you'll barely need to be involved at all). The truly smart thing about this bulb is that you can tell it to emit your choice of colors. For sure it emits green: it can replace an 80-watt bulb using only 11.5 watts. So get lit, keep clean, and stay green.
Plants!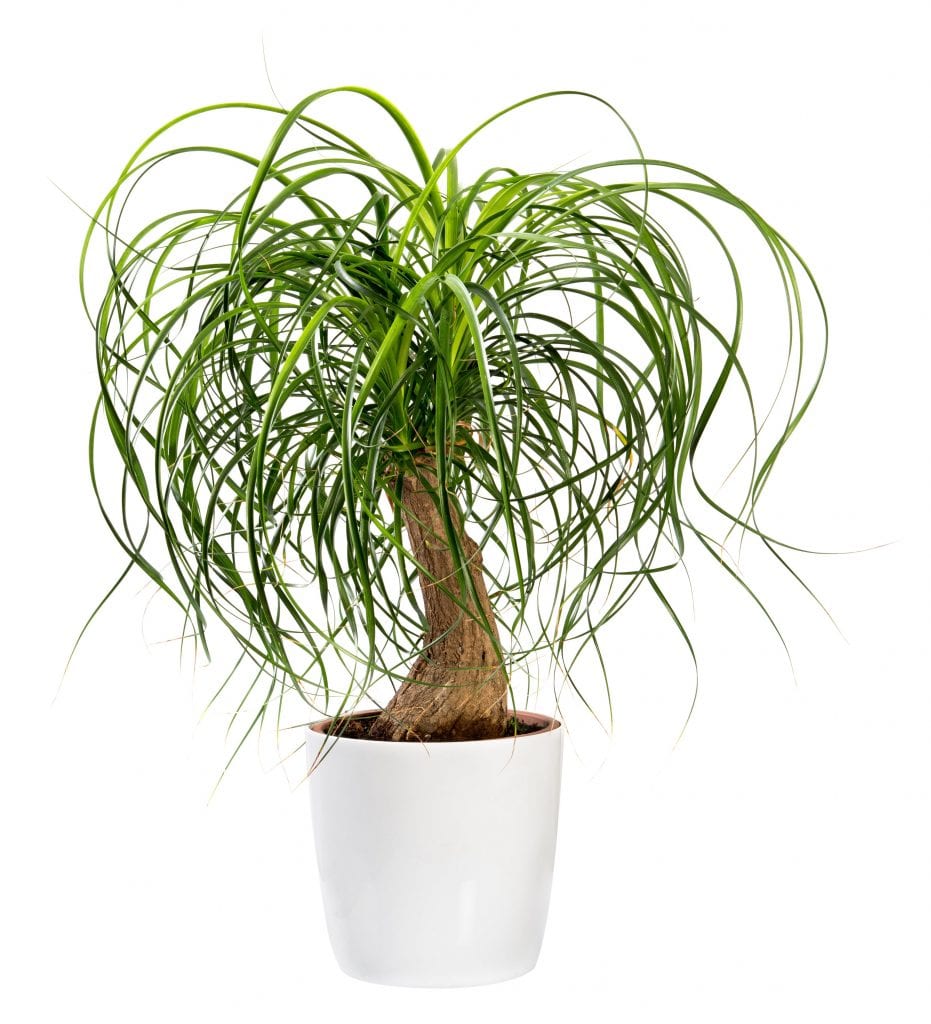 Put some literal green into your green home office. Studies show that plants in the workplace can enhance creativity, improve productivity, reduce stress, and even absorb background noise. In return, plants expect you to give them sustainable light and water, so choose accordingly. For brighter sunlit places go for a cactus, lithop or perhaps a lipstick Echeveria. If you want a leafier look, ponder Dracaena massangeana, which thrives in medium sunlight. We like the funky ponytail palm.