Search garden on 1st Dibs and the site displays 35,333 results, ranging from a $2 brick (coal-fired, from Belgium) to a $2 million sculpture (in the shape of a giant heart). In between you'll find everything from planters to paintings to fire pits, most of which can't be found anywhere else. And don't be fooled by the brick, many of the items of interest can be separated into two categories: expensive and exorbitant. Fear not, though, like any good flea market, the site facilitates (even encourages) haggling and sellers frequently reduce their asks. So log on, channel your inner rug merchant and get ready to give your generic yard and garden decor a dose of eclectic.
19th Century French Napoleon IIII Patinated Zinc Bathtub, $1,600
A 240-year old French bathtub has stories to tell. Put it in your yard and plant lilacs or lillies within and you'll have a few to share as well. If not flowers, fill it with ice and beer, if you must, or better yet, a crisp Sancerre and a half dozen Bosc pears. Your guests will thank you later. If a party is out of the question, pour in some champagne and take a bubbly bath. Just make it quick, because old tubs don't die, but they do leak. Vive le baignoire!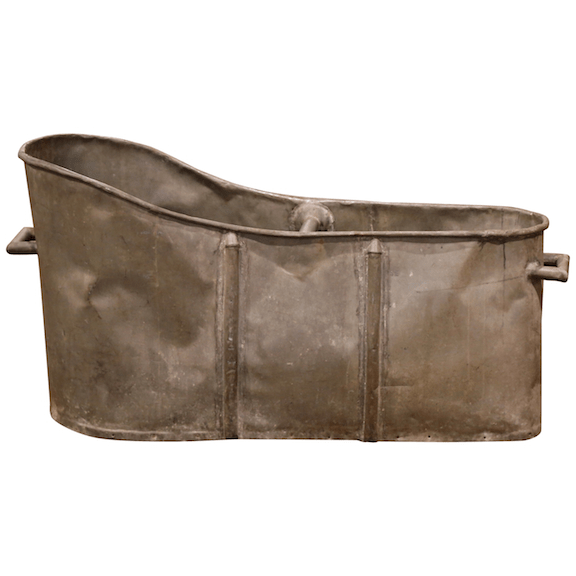 It's a wall. A complete wall, from France, with a fountain and two wrought-iron grates set in windows. Have it built into an outer wall if you're doing a referb or extension, or assemble it at the end of a patio or pool to define the space and provide screening. You know who else had a French 18th Century limestone wall with a fountain in his yard? Napoleon's grandfather. Maybe.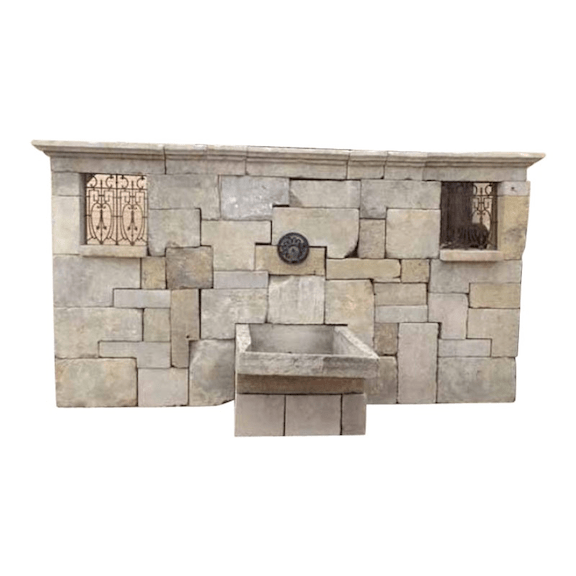 Take your sea shanty TikToks to the next level or herald dinnertime with this military hanging bell. Its gorgeous patina was brought on by briny breezes blowing through its original post at the Chatham dockyards in Maine. You can just picture some weathered ex-fisherman (read: guy on the fish sticks box) tugging the string to signal fog rolling in. Zoom in to examine King George VI's cypher on the bell's crown: Many British craftspeople used royal seals as a timestamp of manufacture, which help date this dinging decor to the 1940s. Complete with its original iron clapper, this World War II-era gem — ready to ring in your next bbq or announce your next maritime mission — really peals with the past.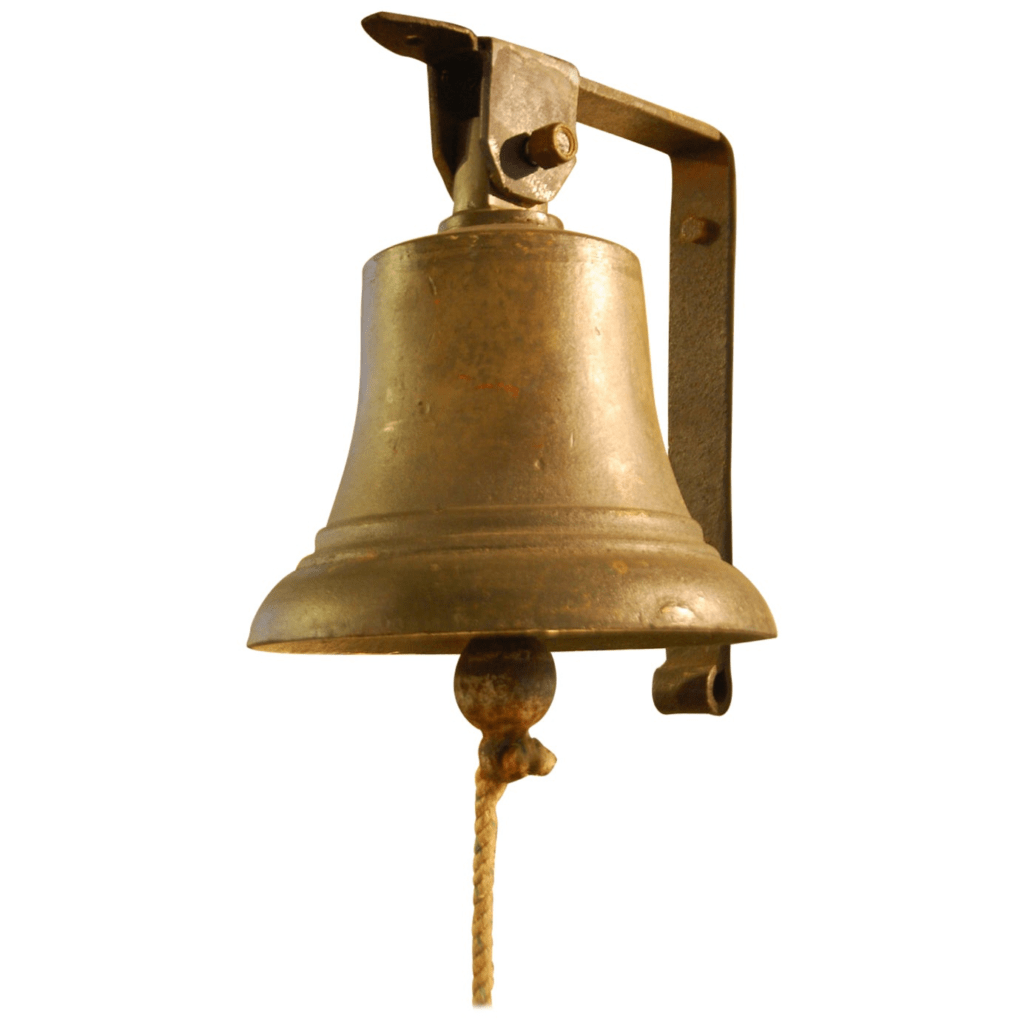 Concrete may be gray, but when molded like oak limbs and left outside for centuries, nature will harmonize with craft. The "bark" of this 19th century French garden furniture is teeming with lichen and moss. That's the beauty of faux bois, French for "false wood," a technique invented by rocailleurs (garden craftsmen) to fool the most fervid tree-huggers from afar. The bench, table, and chairs were hand-sculpted around 1850–1890 from chicken wire, iron rods, and barrel bands before the finish was applied. Those brilliant rocailleurs also knew their imitation branches lacked shade, so there's even a hole in the table so you can add an umbrella.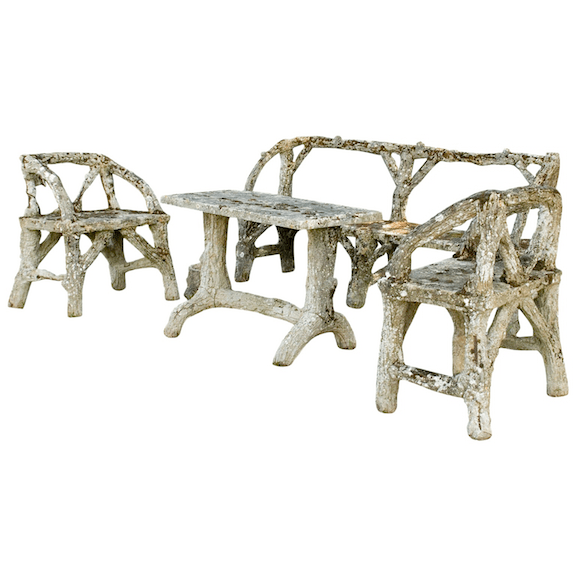 Before your jaw drops at the shipping-and-handling costs, take a moment to marvel at the manpower that turned blocks of rock into a three-tiered monumental fountain. You can tell this piece has splashed for a couple of centuries by the moss-stained chisel marks that add handcrafted texture. Tossed pennies will really complement the red sandstone, which looks variegated from a distance. A little number crunching on a website (probably created in another era, too) and we calculated that the biggest basin can hold roughly 300 gallons — certainly enough wine to get guests schnockered at your next bacchanalia. Or some water for keeping koi. It'll also bring all the birds to the yard, so polish those binoculars.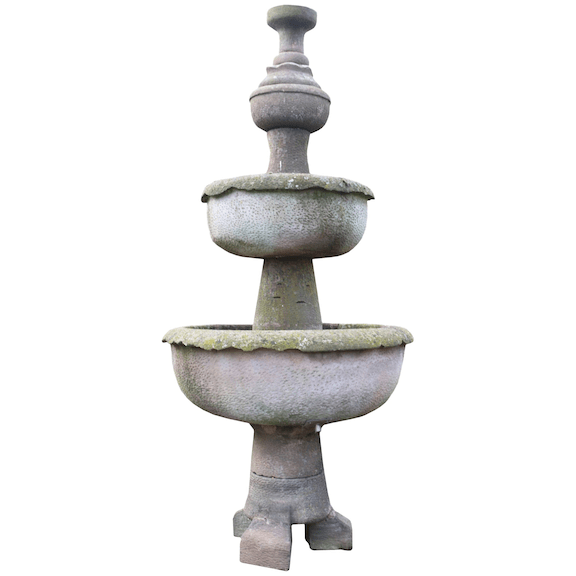 Hammocks are tippy, especially for two, and a chaise lounge is strictly a solo affair, so why not give new meaning to the idea of installing a raised bed? With a brass frame based on a Mies Van der Rohe design and legs made of reclaimed wood, this lounger will allow you and a few others to stretch out in style and comfort. The quick-dry foam is naturally sourced latex, which will be upholstered with a fabric of your choosing and comes with a cover to keep it pristine. Life may not be a bed of roses, but it can be a bed next to the garden.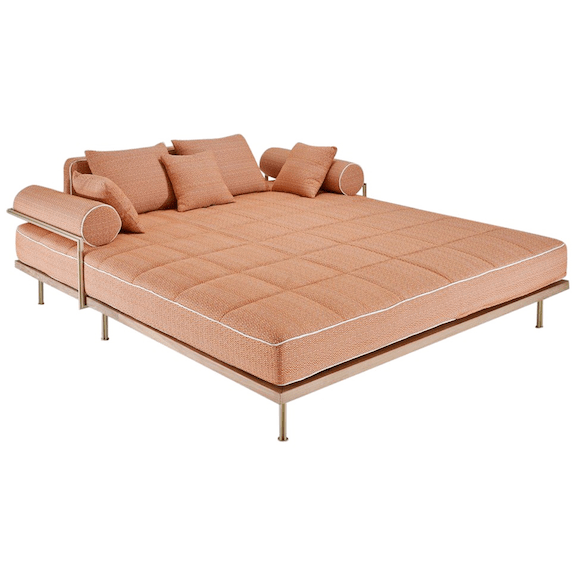 Save the bees! You've heard the bad news, read the stories, maybe even watched The Bee Movie, but now you can do something about it — something that looks sleek and stylish, too. These bee abodes have refillable, compostable combs and come in five different types of wood, including recovered fir. Letting purposeful little pollinators crash in the yard will pay off; they make flowers bloom, and they add more than $20 billion dollars in value to the U.S. food industry. Sure, they'll leave when it gets cold, but come spring you'll be saying: Honey, they're home.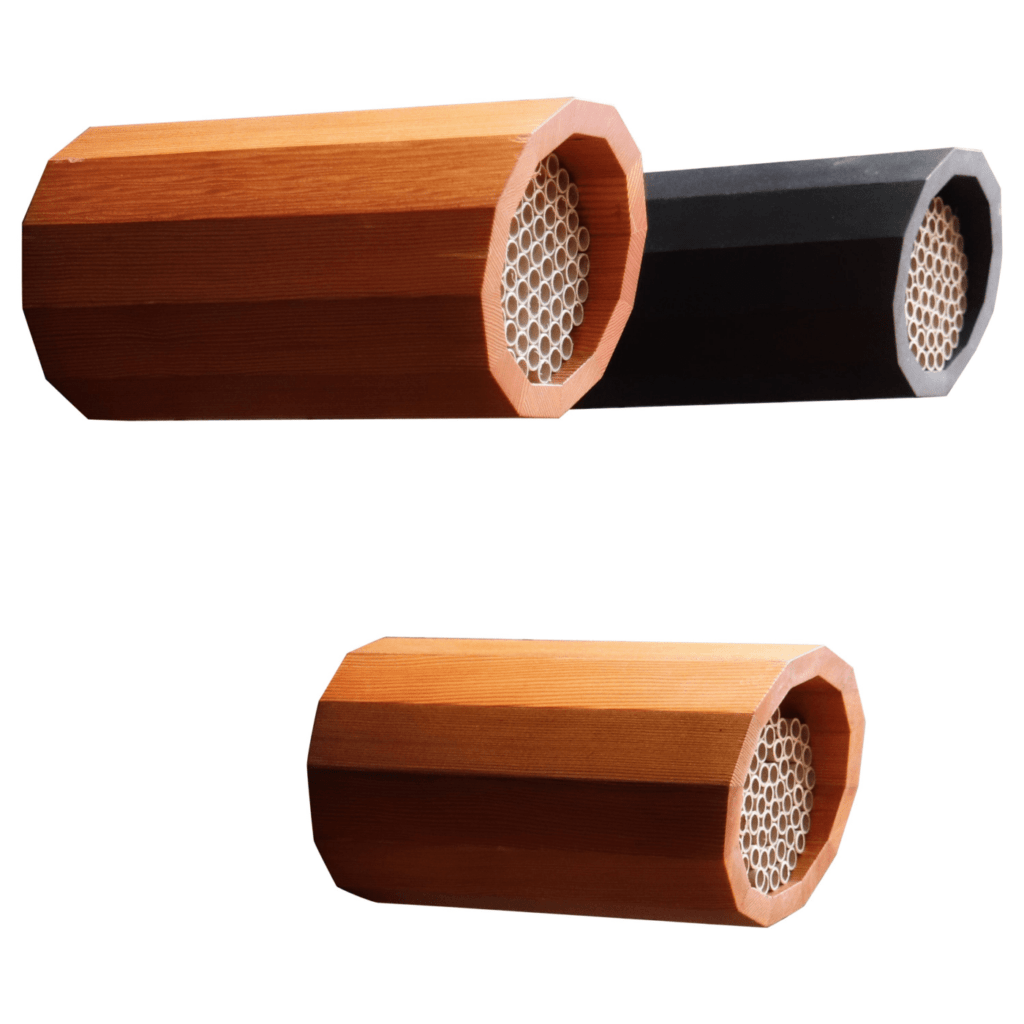 Squat planters that sit on the ground come in every shape, size and color, but what happens when you want to aim high? Pots that can bring a little altitude to your arrangements are less plentiful, which is why this glazed terra cotta cauldron in an iron frame stands out. It's tall (30 inches), elegant and has just enough legitimate wear that you could picture it in some ancient Roman atrium. It's not that old, but age is just a number; height is a goal.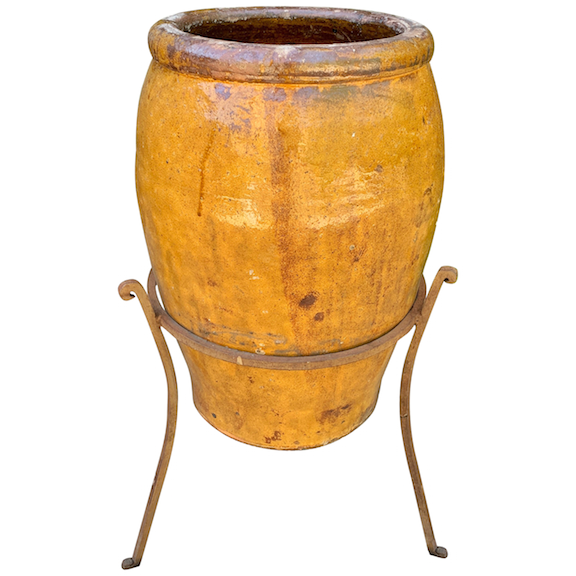 It takes serious design skills to fashion a chair that's sophisticated, supportive, and structurally-sound. The co-founders of McKinnon and Harris had the panache and patience to create just that, and since it's named after their dog, "sit" will mean more than a canine command for you, too. Here's the perch from which you'll lounge and hold court while taking in the splendor of your garden, yacht, veranda, private rooftop — whatever classy outdoor space you keep. And this chair will really keep: the architectural-grade, hand-shaped aluminum, Bonderite EC2 Henkel undercoating, and a high-performance powder coat should take care of any durability concerns. And, upholstered in "Perennials Whippersnapper Chalk" fabric, this throne will look smart and fresh year after year.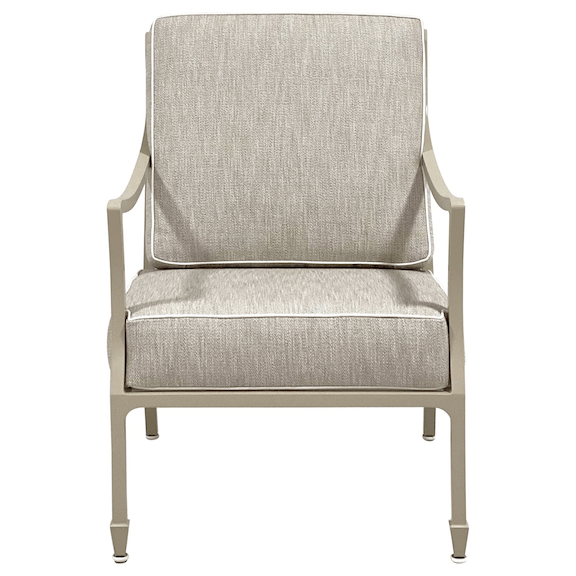 The Gilded Age wasn't exactly known for its home-security systems, but this pair of fierce concrete cats, ready to pounce, certainly seem up to the task as an artful "keep off the lawn" reminder. Whereas years of living in France might give us a baguette belly, these lions are still looking better-than-personal-trainer sculpted. There's no flying buttress too high, no porch too low to keep these loyal lions from throwing shade at passersby.